Mr. Sachin Desai P.T. (McKenzie Method Credentialed)
Sachin has significant interest, training, and experience in treating complex back and neck problems, frozen shoulders, rotator cuff problems, joint replacements, knee pain, hip pain, pinched nerve, and sports injuries. He believes that the patients should be involved in their own care and also should be taught self treatments to manage their disability.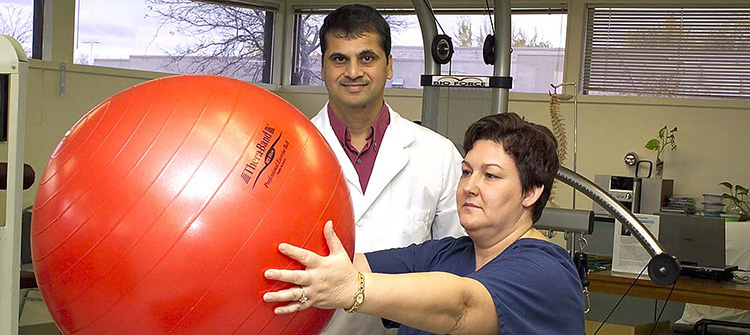 Family Care Plus Physical Therapy and Wellness is a Physical Therapist owned and operated facility. Sachin Desai, Physical Therapist, started his own independent practice with a single goal of serving patients with his expertise in treating out-patient clients. He has been practicing physical therapy since 1988 and has a strong background in treating musculoskeletal disorders. He has been a
McKenzie Method
Certified therapist since 1998. Sachin is proficient in treating back and neck pain associated with disc herniation. He has developed a keen sense of differentiating pain associated with nerve root pinching and mechanical spinal pain. He has gained a significant understanding in treating orthopaedic conditions. He devotes a significant amount of time for patient education and prevention. He specializes in treating orthopaedic patients and joint replacements patients. Sachin has been a hands-on practitioner his entire career and he continues to do so in his current practice. He treats each patient one-on-one and there is no unqualified personnel treating any patients. That means, patients get to work with an experienced licensed Physical Therapist on each visit, patients get better in less number of visits, and it saves unnecessary healthcare cost! View our Patient Satisfaction Survey results to see what our patients say about our services.
Philosophy of Care
Patient education, patient involvement, and prevention continue to be the focus of our practice. We practice evidence based and functional restorative therapy. It is of utmost importance to make a proper physical Therapy diagnosis in order to treat patients effectively. Physical Therapist, Sachin Desai, spends a significant time during the initial evaluation phase and then continues to regularly re-assess the patient for progress. It is important to make sure that the current medical evidence be presented to the patient without any bias.
Sachin continues to believe and practice ethical unbiased physical Therapy. He continues to work one-on-one with his patients and involves the patient in their care. Patients' functional outcome along with patient satisfaction and cost reductions is our goal. Every patient is treated equally and respectfully. We do not promote, nor support, passive modality based treatments. One-on-one physical therapy has produced higher patient satisfaction and outcomes.
Mission
Our mission is to provide excellent clinical care at a personal level by merging modern science and the art of caring, with the focus on comfort, functional restoration, effective outcomes, and prevention strategy in a value based environment.
Our Vision and Values
We will be recognized as a trusted, quality therapy provider in our community with our focus on independence from disability by integrating modern science and innovation at a competitive cost in a safe, friendly, and respectful manner.
Values
Service
Quality
Wisdom
Excellence
Commitment
Integrity
Innovation

Why FCPPT?

Physical Therapy trusted by patients and physicians Family Care Plus Physical Therapy and Wellness is a unique practice. It is owned and operated by Sachin Desai, who has been a Physical Therapist for past 30 years. This practice does not have any strings attached from any other businesses and there is no pressure from anyone to increase profits over quality of care. There is a significant advantage when you choose a physical therapist owned practice for your services as there is no conflict of interest for any referral source and treatments are based on what is best for the patients. Patient care is decided by a physical therapist and not by any other business administrator. This scenario helps to cut cost for the patients as well as the insurance providers with great outcomes and high patient satisfaction. Blue Cross of Michigan cost utilization shows 25-30% less cost per episode for our clinic as compared to other physical therapy facilities.